In order to keep this site going (at no cost to you!) this guide may contain affiliate links.
Anyone can become a virtual assistant and get paid to do what they love. I've proven it!
One of the first dollars I ever earned as an online business owner was by working for another entrepreneur as her Marketing Assistant.
I helped promote her ebooks through researching and creating posts for guest blogging campaigns, creating landing pages for webinars, writing follow up email sequences for newsletters, and managing her social media platforms.
If I were to start my online business over again I'd still do it the same way!
Working for a more experienced entrepreneur allowed me to learn the ropes, see behind-the-scenes of her business, and have access to her brain. She not only mentored me but it was like I got paid to learn!
That's the best part about making money as someone's virtual assistant, managing editor, or project manager. You get access to the inner workings of their business all while getting paid.
If you're looking to become a virtual assistant, and make money helping other business owners, now's perfect time to begin.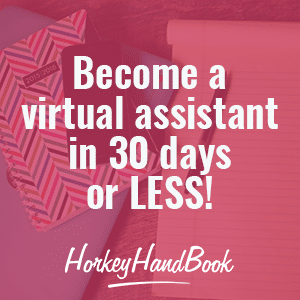 30 Days or Less to Virtual Assistant Success Price: Starting as low as $117 Choose from two convenient pricing options that are budget-friendly!
Earning $500 with my first VA client
When I first launched this blog back in 2011 I literally had no idea what I was doing. I fumbled around, wrote a few blog posts, and posted a few tweets on Twitter. It wasn't until I avidly started reading other blogs about business and entrepreneurship that my career changed for the better.
After signing up for several newsletter lists and "stalking" a few entrepreneurs on social media, I had the opportunity to apply for a Marketing Assistant position. We jumped on a Skype interview call and I landed the gig a few days later!
We worked out a payment deal where I got paid $16 an hour for about 32 hours of work each month. The rate and work increased over time and I eventually moved to a monthly retainer plan that worked out to roughly $25 an hour.
I worked with this client for 2.5 years and she gave me a glowing testimonial.
If you're doing the math, $16 an hour X 32 hours a month = $512 in my first month!
Yep, within my first month of being a virtual assistant I was able to bring in over $500! And this was back in 2012 so imagine how much more money you could earn now.
Here are the steps you can make money as a newbie virtual assistant in just 30 days.
Landing your first VA client
Finding your first client is scary — you're putting yourself out there and feel like you have no freaking idea what you're doing.
Doubt starts to creep in and you're wondering why in the world anyone would pay you for your expertise and skills.
This is why I advise two strategies for getting started:
Leverage a lateral skill. When you're starting a VA business (or any kind of freelance business) from scratch, the quickest way to start getting paid is to market a skill you already know. Turn something you already know how to do into the foundation for your VA business. If you went to school for accounting, start a bookkeeping or digital organization business. Leverage your past experience to showcase skills that are already in your resume. (That's what I did!)
Become an online member of their community. If you want to work for a particular entrepreneur or company, sign up for their newsletter list, follow them on Facebook, leave thoughtful blog comments, and generally interact in their community. This is what I did to land my first long-term client and it paid off big time. Business owners want to hire people within their own community because these assistants already understand their brand, voice, and mission.
You can apply one or both of these strategies when putting together your portfolio and seeking out your first few VA clients. Both of them worked very well for me and I know they can work for you too!
Offering various VA services
Once you have a potential job you want to apply for, you need a summary of services or packages of your current offerings.
There are seriously endless tasks and services you can offer to other entrepreneurs (including email management, social media scheduling, marketing, blog management, ebook promotion, guest blogging, writing, researching, the list goes on).
Narrow down your focus by only offering 1-3 packages based on past experience and work your way up from there. List the primary tasks for each, start/end dates, what each package + rate includes, any payment details, a client testimonial, and a link to your portfolio.
Here, I've made it super easy. Download a free copy of my Summary of Services template by filling in the form below!
Then simply copy and past to fill in your details and make it your own. Or you can access the digital version via Google docs (make a copy and save it to your Google Drive).
Creating a "hire me" page
Once you have a Summary of Services finished, save it as a PDF and then list the packages/offerings on your Hire Me page.
If you don't have a Hire Me page, it's time to set one up. Seriously, you can call it a "work with me" page, "hire me" page, or anything else you like, but it's vital to marketing yourself online.
You want to give potential clients a place to view your offerings and see if you're a good fit, as well as making it stupidly easy for them to contact you. The less clicks the better!
Two examples of converting Hire Me pages:
Check out Kristin's Hire Me page. 

She's a coaching client of mine and we worked on clearly defining her packages, optimizing her page, and setting her rates. And because of this she recently had her best income month yet!

My Hire Me page is optimized for the search term "virtual assistant" so when anyone types that phrase into Google, my page is one of the first results.
A checklist of what every Hire Me page should include:
Who you are and what you offer (plus what you don't!)
Past experience, examples, portfolio
Current and past clients
Offerings, services, packages
Topics, industry, etc
Current rates (or starting rates)
Testimonials from current clients
A contact form
Charging by the hour vs a flat rate
In the beginning stages of offering VA services it's best to charge clients by the hour. It's difficult to fully understand how quickly you work and how long certain projects will take you.
Don't put yourself in the position of working for hours and days and not getting properly compensated for it.
Once you know how long the types of services you offer take you, and the total amount of work they entail, you should switch to a monthly fee or flat rate instead of charging by the hour.
For email management work you may already know that it will take you 1-2 hours per day, 5 days a week, so you could offer this service for a flat $400 per week (which works out to be $40 an hour).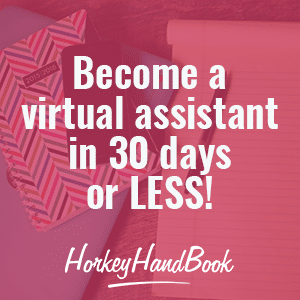 30 Days or Less to Virtual Assistant Success Price: Starting as low as $117 Choose from two convenient pricing options that are budget-friendly!
Some VA work is easier to pinpoint how much work is involved while others are more abstract and will take some trial and error.
The going rate for VA work starts at $20 per hour and can be as much as $50 per hour. I don't suggest accepting a much lower rate than this unless you're extremely inexperienced. Then you can increase your prices and ask for raises.
The more specialized your VA offerings are, the more per hour you can charge. It also depends on your client and their industry of work. A non-profit client won't be able to afford nearly as much as a financial company can.
Don't be afraid to start out charging by the hour and then switch to a flat rate. This will allow you to have more freedom with how you spend your time, and cut back on your admin hours when creating invoices at the end of the month.
How to become a virtual assistant
If you're ready to start earning your first $500 this month, here are the steps to take;
Find your ideal client on social media and sign up for their newsletter
Interact with their community and learn the ins-and-outs of their biz
Leverage past experience and turn into multiple VA packages
Put together a descriptive Summary of Services
Optimize your Hire Me page for the best results
Charge by the hour then move to a flat rate
Now start putting all of this into practice and making money as a virtual assistant by enrolling in the 30 Days or Less to Virtual Assistant Success course from VA expert Gina Horkey.
They share how they launched their businesses as virtual assistants, the best tips for getting started, what to charge, and how they landed their first clients.
Click this button to find out more details about how to become a Virtual Assistant in 30 days or less and earn your first $500.
Want to become a specialized virtual assistant?
VA expert, Gina Horkey and Pinterest expert, Kristen Larsen team up to bring you this collaboration of their best advice to Become a Pinterest VA Today! And did I mention they're both past coaching clients of mine?
Yep, I've been with them through the entire process of creating this course, and I must say, it's a fabulous resource.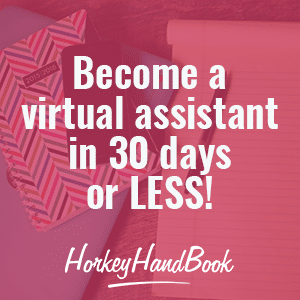 30 Days or Less to Virtual Assistant Success Price: Starting as low as $117 Choose from two convenient pricing options that are budget-friendly!