In order to keep this site going (at no cost to you!) this guide may contain affiliate links. All of the products mentioned have been used and personally tested by me!
The idea of how to make a living online with blogging is often met a stigma attached to it. This is a sad, but true fact.
It continues to be fueled by hypocritical answers and certain information that's withheld in success stories you read across the web.
Learning how to make a living online isn't difficult. In fact, anyone with a computer and internet connection can start. However, making an HONEST living online is a completely different story.
Still, I'm determined to bust through the myths that you either have to make a living online by selling your soul or working yourself to death.
I have personally overcome both of those misconceptions and am averaging $8,000 a month in revenue from this blog.
What it really means to make a living online
Before I explain the different methods for how to make a living online, I first want you to understand that there are actually several completely different paths you can take as a business owner.
Become a blogger
A blog is one of the best ways to display your work as a freelancer. It's literally a living, breathing portfolio. Obviously, this is the route I've currently decided to go in.
I started Careful Cents as a reflection of a personal writing style, relationships I've formed with brands and expertise as a past accountant.
Establish a brand
This can come in the form of a personal brand, as exampled by Mariah of Femtrepreneur, or a company brand, as detailed by The Write Life.
Both of these brand-building routes are good choices, and offer the capability to increase your popularity, authority, and income, as an entrepreneur.
Build an empire
With this method you're basically becoming a serial entrepreneur who experiments with several different niche sites, startups and other income stream opportunities.
However, according to my research and personal experience, it takes an average of 3 years before entrepreneurs turn a profit from their entrepreneurial efforts. A great example of this venture is my friend Matt, from MoneyLab.co, who works on multiple income experiments every month.
Let me be clear, there are no right and wrong ways for making a living online. There are only right and wrong ways FOR YOU as an entrepreneur. If it doesn't feel right, don't do it.
No matter how many ethical ways other entrepreneurs spin it, or how many case studies they publish to prove it works, it has to work for you to be effective.
There are dishonest people all over the internet (and among my blogging friends). This should not come as a surprise to you. Even well-established bloggers are hiding the fact that they earn money in an unethical (selling-out-their-soul) kind of way.
But that's up to them. I'm not here to judge what others do.
I simply reveal the real truth of what it REALLY takes to earn an honest, and ethical, living as an online entrepreneur.
8 examples for how to make a living online
There are lots for learning how to make a living online. I'm showcasing the best ones based on my personal experience (through experimenting) and what I've seen my fellow colleagues/friends test.
Some of these methods allow entrepreneurs to earn thousands of dollars every month, while others only make a few hundred.
It takes a lot of time, energy, and financial resources to get a new business off the ground, but the reward usually outweighs the sacrifice.
Here are 8 case studies (in no particular order) that prove you can earn money online without selling out.
1. Freelance blogging
As I mentioned earlier, freelancing is the quickest way to earn money. The only downside is that you're often trading time for money — unless you do it the way that Holly has perfected.
Holly Johnson is a fellow freelancer. We've met up at conferences and chatted over email. Her and her husband are avid travelers so we're all trying to balance a business while being location independent.
Plus, she's the breadwinner for her family too!
Furthermore, she's very open and honest when it comes to her freelance writing work, clients and her process. She really knows her stuff and isn't just a freelance writer who writes about writing. HA!
Earn More Writing | A Course for Online Freelance Writers Price: $149 Learn how to find freelance writing jobs that pay so you can earn the money you deserve.
2. Direct advertising
Offering direct advertising on your blog or website is a great money-making method once you've established a solid online brand. You usually need to have quite a bit of traffic (in the form of pageviews) before brands will want to fork over money.
It's also a lot easier to request a decent advertising rate when you build a separate company brand (a brand or business that isn't focused on you as a person), versus a personal one.
Alexis Grant is the creator and founder of The Write Life (who I mentioned above). It's a multi-contributor website that focuses on resources for published authors and writers.
Her team began experimenting with direct ads last year and now earns up to $2,000 a month from displaying banner ads. They are very particular with what brands/ads they agree to work with, so the resources are something their readers will find helpful.
I personally chose not to go this route because I didn't want to clutter up my blog with banner ads.
I do, however, occasionally accept brand sponsorships (from brands I work with directly) to display an ad in my weekly newsletters.
3. Coaching or mentoring
Business mentoring, life coaching — whatever you identify with — coaching offers the chance to make decent money while offering guidance and helping people.
I never thought of myself as a mentor, and never wanted to identify with the term "coach", but over the past year I have embraced that title, as more and more go-getters reach out to me for mentoring.
Depending on what level of experience you have, and your reputation, coaching can pull down $1,000 per session, or more. (I personally know several business colleagues who charge this rate.)
I want to focus on more realistic numbers, and this is something that my friend Amanda Abella has been able to achieve. She's an awesome coach, and author, who mentors millennial entrepreneurs to take control of their money mindsets and fall in love with their finances.
We're a kindred spirit in the money realm — I'm sure you can see why we're friends.
4. Brand ambassador and sponsorships
You know those people who give out free samples of food at places like Whole Foods? They aren't volunteers. The company is paying them to give out free stuff in hopes they can raise awareness about the food and sell more bags/boxes.
This is the simplified definition of what it means to work with brands and become a brand ambassador.
In fact, the hubs has been a brand ambassador for Organic Valley and traveled around the state giving away coupons and free milk. The company paid him for his time (6 hours a day), food, and lodging for 3 days.
Sounds too good to be true, right?
And how does this apply to an online business? My friend Shannyn, from Frugal Beautiful, has perfected the idea of working with brands.
She's worked with Payless, Kohl's, CVS, and tons more companies to get hotel stays, beauty products, clothes, shoes — all for free. It was her guidance that helped me earn my first dollar working with brands like E*TRADE, TaxAct, and Lifelock.
Click here to get started earning money by working with well-known brands as an ambassador.
5. Selling digital products
In the beginning stages of her freelance career, Gina Horkey was a coaching client of mine. We worked together several times a month for just over a year.
In that time I helped her start craft her first online product, helping freelance writers. Since then she's also started a virtual assistant course + finder program, as well as partner up with another freelancer to teach others to become Pinterest VAs.
Doing this has allowed her to grow her collection of products enough in order to quit her full-time job! Now, she earns enough money to support her small family.
She mentors and teaches other freelancers how to get started, find clients and make a living online.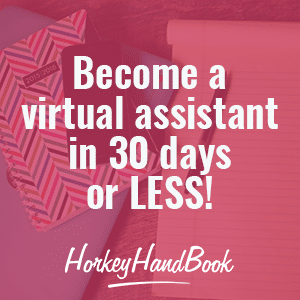 30 Days or Less to Virtual Assistant Success Price: Starting as low as $117 Choose from two convenient pricing options that are budget-friendly!
6. Requesting donations
The donation model is a much lesser-known way to make money as a blogger or creative. One of the first trail blazers to go down this path is Maria Popova, of Brain Pickings.
She makes thousands of dollars a month from readers who love her work and want to continue reading.
My good friend (and accountability partner) Steph Halligan also went this route. Her passion project, Art To Self, is less than 6 months old. But it already brings in several hundred dollars a month in donations from loyal fans and readers.
She produces daily inspirational comics, delivered via email, and people are eating it up. If you have a creative side, and want to share your art with the world, consider the donation model as a smart way to earn a full-time living online.
7. Private membership subscriptions
The ladies who run One Woman Shop are truly inspirational. They each have separate businesses but have partnered up to build an amazing brand and business.
It's taken a lot of time and effort on their part, and they are still trying to turn a decent profit.
The reason I'm showcasing them is because not all brand-building endeavors should be entered into with the sole idea of making money. Sometimes it's about making a difference, changing lives, connecting with others, or even personal fulfillment.
These benefits often outshine any amount of money.
They've built an incredible community, that's both supportive and full of valuable resources.
As a female entrepreneur myself it's nice to know that other female business women get where I'm coming from, and are happy to support my ideas.
8. Affiliate marketing
I personally love affiliate marketing. Being the accounting person that I am, I really like the reporting, tracking, and income potential that affiliate marketing brings.
It's actually one of the first ways I monetized my blog when I made the decision to turn my blog into a business.
I'm by no means an expert but I make around $2,000 a month from affiliate sales (most of which come from honest reviews of products like, QuickBooks, FreshBooks and Betterment).
My friend and fellow blogger Michelle Schroeder-Gardner, from Making Sense of Cents, is someone who has been very successful at affiliate marketing.
She currently brings in about $55,000 a month from affiliate links.
How?
When someone clicks on her link and makes a purchase based on her review or recommendation of that product.
Making Sense of Affiliate Marketing Price: Starting as low as $105 Grow your income with affiliate marketing from someone who's proven formula works!
Now that I've peeled back the curtain showing you exactly what it takes to make a living online honestly, I want to hear from you.
How do you make a living online?
Are you still experimenting with the best monetization method? Or have you come across a solid income plan?